About Us
Not-for-profit, member-owned, locally led. And community-driven.
Electric cooperatives are unique because we're owned by our customers and driven to make a difference, not a profit. At the end of the year, remaining funds, or capital credits, go back to you. Here's more information on how we work for you.
When it comes to serving our members, we get down to business
Our Mission:
Cooperative Energy, together with our Members, creates a stronger future for Mississippi communities by delivering affordable, reliable energy in a safe and environmentally responsible manner.
By the Numbers
Total Assets Year-End 2022:
$2.2 billion
Miles of Transmission Lines: 1,838
Miles of Distribution Lines: 58,348
Service area: 55 of Mississippi's 82 counties (over half of the state's land mass)
Approximate number of members: 448,000 homes and businesses
2022 Sales to Members: 10,368,614 MWh
Employees: 485 FTE
A Little More About Us
Member-owned
Not-for-profit
Rates reflect only the cost of supplying wholesale energy
Headquartered in Hattiesburg
Welcome to Cooperative Energy, formerly South Mississippi Electric Power Association. We were formed in 1941 with the mission of meeting the wholesale power requirements of seven, small electric power associations, all located in South Mississippi.
Today, in a complex, ever-changing energy world, our mission for our Members remains the same, but the size of our job is much bigger: We now provide reliable, affordable electric power to over one million Mississippians served by our 11 Member systems from the Mississippi Delta to the Gulf Coast.
The electric industry is changing at a rapid pace. Now more than ever, regulatory requirements, financial constraints, environmental considerations, and technological advancements are creating evolving challenges. Our workforce of over 450 men and women strive not only to meet the demands of change but to convert them into opportunities. That process requires disciplined, focused management of our facilities, resources, and operations. Our Members and their consumers demand and deserve no less.
Cooperative Energy's tradition and history is strong. We continue our dedication to safety excellence in our workforce. We embrace our role as leaders in the electric industry, mindful of how integral our service is to the quality of life we enjoy in our state and our region. Every day, as a system of cooperatives dedicated to growing Mississippi, we strive to maximize "The Power of 12."
After exploring our website, please feel free to contact us with any questions.
Truly yours,
Jeff Bowman
President/CEO
Our President/CEO and executive staff carry out Cooperative Energy's daily operations in six main divisions – General Operations, Administration, Finance, Power Delivery, Compliance, and Communications.
Jeff Bowman
President/CEO
Jeff assumed the role of President and Chief Executive Officer in November 2019 and is only the fourth person to serve as CEO in the cooperative's history. He joined Cooperative Energy full-time in 2012 after serving as the organization's special counsel and board attorney since July 2004. Prior to assuming his current role, he served as the Cooperative's senior vice president and chief administrative officer. Jeff earned his Bachelor of Science degree in Business Administration with a major in accounting from the University of Southern Mississippi, a Juris Doctor from the University of Mississippi School of Law, and a Master of Laws in Taxation from the University of Florida. His career accomplishments include service as an officer in the U.S. Army, a military prosecutor, and a special assistant U.S. attorney for the Western District of Oklahoma. Before joining Cooperative Energy, Jeff was a partner in the law firm of Jackson, Bowman & Arrington, PLLC, of Hattiesburg.
Christa Bishop
Executive Vice President
Chief Communications Officer
As Executive Vice President, Christa handles management responsibilities for the Cooperative Energy board of directors. As Chief Communications Officer, she oversees the economic development, government relations, corporate communications, human resources, facilities, physical security, and wholesale services & marketing groups. She also publicly represents Cooperative Energy on the local, state, regional and national levels. Christa began in Cooperative Energy's legal department in July 2008, originally serving as staff attorney before progressing to director of legal affairs. A Hattiesburg native, Christa is a graduate of Vanderbilt University and Mississippi College School of Law. She serves on the board of the Mississippi Energy Institute, Mississippi Economic Council and is a graduate of Leadership PineBelt and Leadership Mississippi.
Gary Hutson
Senior Vice President
Chief Operating Officer
As chief operating officer, Gary is responsible for managing Cooperative Energy's system operations, computer systems and network security, control systems, business information systems, and communication systems. Gary began his career at Cooperative Energy in 2002 as transmission planning engineer before assuming the roles of system operations manager, director of operations and planning, and most recently vice president of power supply. He earned his bachelor's degree in electrical engineering from Mississippi State University and his master's degree in business administration from William Carey University. He is a licensed Professional Engineer.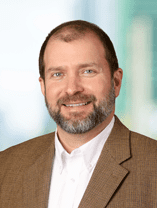 Kevin Grace
Senior Vice President
Chief Financial Officer
In his role as chief financial officer, Kevin is responsible for the development of the Cooperative's financial plans and relationships with financial institutions, credit partners, and commercial and investment banks. He directs all aspects of Cooperative Energy's accounting, budgeting, insurance, and finance functions, including ensuring compliance in each area under his direction. Kevin is also responsible for communicating the Cooperative's financial activities and status to the Board of Directors. Kevin joined Cooperative Energy as director of treasury services in March 2010 and has served as controller since June 2016. Prior to joining Cooperative Energy, Kevin worked in the banking, insurance, and public accounting industries. Kevin earned his Bachelor of Business Administration degree in accounting from Millsaps College and is a Certified Public Accountant.
Don Hinton
Senior Vice President — General Counsel
Chief Compliance Officer
Don oversees the environmental, safety, reliability compliance, supply chain & contract administration, and legal affairs groups. Don joined Cooperative Energy in 2016 from the law firm of Pittman, Howdeshell and Hinton, PLLC, in Hattiesburg and had been in the private law practice for 20 years.  Don is a Hattiesburg native and obtained both his bachelor's degree in biology and his law degree from University of Mississippi. 
Mark Smith
Senior Vice President
Power Generation
Mark joined Cooperative Energy in 1998 as results engineer at the R. D. Morrow, Sr. Generating Station. During his tenure at Plant Morrow, he also served in various engineering, supervisory, and management roles including mechanical maintenance superintendent, operations superintendent, and plant superintendent. In 2019, he assumed his current role as senior vice president/power generation. His responsibilities include directing all aspects of Cooperative Energy owned generation resources, including the development and construction of new generation projects. Mark earned a degree in mechanical engineering from Mississippi State University.
James Evans
Senior Vice President
Power Delivery
A 35-year Cooperative Energy employee, James oversees the operation, maintenance, design, and construction of Cooperative Energy's transmission system. This includes the geographical information system (GIS), surveying, system protection, metering, substation and line maintenance, substation and line design, and right of way (ROW) maintenance. He also oversees the organization's fleet maintenance and serves as facility manager at the field operations center.
James joined Cooperative Energy in 1987, serving as a lineman for 10 years before serving as a system operator for four years. He then progressed through the transmission maintenance department, serving as line foreman, transmission supervisor, transmission maintenance manager, director of transmission maintenance, and most recently as vice president of transmission maintenance.
View a Timeline of Our History